The story of Daniel Kent Armstrong actually started out as somewhat a mystery to me. In my second interview with him in 2000, my notes showed that Dan said he was born in Lakewood, Ohio - a suburb of Cleveland, on October 7th 1934. Various brochures & literature also reveal this same information. However, it is a matter of record that his birth certificate reveals he was born in Pittsburgh, PA. on that date. This came as quite a surprise and I couldn't help but wonder what Dan had been thinking until some while later, while sifting through my notes looking for something else entirely, that I came across the page about his birth date. In my quest for the other information I was seeking, I almost missed it. And as I began to turn the page, a little footnote caught my eye, and I quickly turned the page back. The note - taken from Dan's own words over the phone, solved the mystery. It verified his birthplace and my error - that Dan was was indeed
born
in Pittsburgh, PA. but
grew up
in Lakewood, Ohio.
He was born the son of Harry & Ruth Armstrong. Harry was an engineer responsible for heat treating equipment at the Lee Wilson Engineering Co. of Rocky River, Ohio while Ruth, (maiden name Frost) was a registered nurse working at Grant Hospital, then the Berea Community Hospital, and finally for Dr. William Bond, all of which were located in Berea, Ohio. Given these work locations, it's seems plausible that the Armstrong family was originally from Pittsburgh but found work in Ohio, and eventually relocated there.
While his fathers engineering skills would help serve Dan later on, his first interest was in electronics. New York's renown jazz guitar player, and Dan's former employee Eddie Diehl, still chuckes as he tells the story of Dan as a young man who enjoyed using his ham radio set. "Dan used to take the inductor coil off an automobile, and somehow tie it in and transmit with it, jamming radio stations and most every other type of transmission for miles around, possibly as far as 100 miles. He got a kick out of this, and kept repeating it until the local authorities caught him by triangulating the signal to his position and shutting him down."
Dan's other area of interest at the time was, of course, music - and at the age of 11 he began playing guitar. William Gamble writes in to say "Dan and I were neighbors in Lakewood and both graduates of Lakewood High School."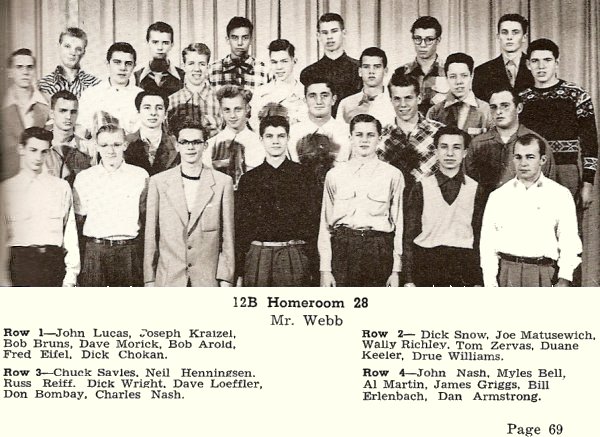 photo courtesy of Lakewood Alumni Foundation archives
Seen above is a photo of Dan Armstrong's homeroom class in his senior year at Lakewood High School - from the 1952 Cinema (the yearbook of Lakewood High School). Dan is at the far right in the back row.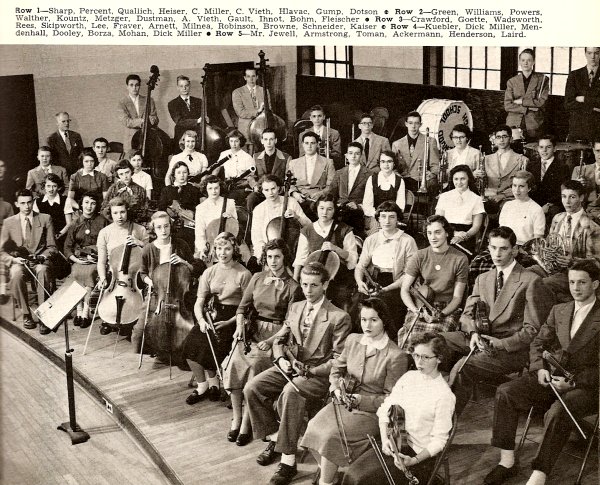 photo courtesy of Lakewood Alumni Foundation archives
Seen here Dan Armstrong is in the back row, first bass on the left. Being Dan was widely acclaimed as being such an accomplished bass player makes this photo very poignant. "Dan absolutely loved fretless basses so when it came time to produce his own line of clear guitars and basses - he said that he made sure some of the bass models were going to be fretless." says Steve Kubica, friend and former employee of Dan. It's interesting to see how this love of fretless basses most likely came about.
William Gamble continues, stating "I was in the class of '50 and I think he was in the class of '49." (actually Dan was a senior in 1952) "We really only had what you would call a corridor acquaintance until after high school when I began to study guitar. Jim Hall was my teacher, and I eventually came to learn that Danny was not only playing guitar already, but gigging around town."
Years later Dan moved to New York with dreams of becoming a master jazz guitar player. Work as a musician did not come immediately however, and Dan would soon put his electronic skills to work doing custom rewiring of guitars as well as other set-up type repairs working for Eddie Bell. When not working on guitars Dan was playing them. He could usually be found jamming with friends and local musicians. It was not at all rare to have famous musicians visit, and partake in these sessions, and it was here that Dan met Russell George, a jazz and session bassist who worked with trumpeter Dizzy Gillespie and many others who were on the professional circuit.
As a result, Dan's new circle of friends used their connections (which was usually just word of mouth), that would eventually land Dan in the recording studios as a part time session player. With the gifted ability to play both lead or bass guitar, he became immediately in demand with big name bands and it wasn't long before the music would take Dan on the road, and often he would rent, or borrow equipment from a music shop called Caroll's. The owner, Caroll Bratman, soon discovered that his rental instruments were coming back in better shape than when they went out, and eventually asked Dan to repair guitars for him. Dan agreed and was soon taken to a warehouse chock full of instruments - Gibsons®, Fenders®, Guilds®, and many others. Dan recalls, "I had never seen so many instruments in one building before."
| | |
| --- | --- |
| | In 1965, and with the music business literally booming all around him, Dan saw a niche, and decided to fill it. With his last $400.00 he opened his own luthier repair shop on New Yorks 48th Street (affectionately known as 'guitar row') across from Manny's Music seen at left. It was named 'Dan Armstrong's Guitar Service' and one of his first customers was John Sebastian (Loving Spoonful). He also did wiring modifications, and made improvements on instruments and amps. He did work for Wes Montgomery and Jack Bruce, and customized several Stratocasters for Jimi Hendrix. |
Dan's shop quickly became known as the place to acquire upgraded Danelectro® guitars. William Gamble continues in his letter saying "after I moved to New York is when I really got to know Dan. Being guitar players, and friends, I was often hanging out at his shop."
Despite all this and more, Dan continued his session work. In addition, he, along with guitarist Charlie Brown both played with Van Morrison in his touring band in 1967. Later Dan and Charlie would form a band called 'The Players' which featured a brilliant young singer named Carly Simon. As Dan's new business grew, his studio calls for standby work also had him working with numerous other artists as well. By this time things had gotten so busy that Dan needed some help at his shop. At a jam session Dan became aware, not only of Eddie Diehl's masterful jazz guitar playing, but also of his luthier skills and asked Eddie to work for him. Eddie felt he could work by day & play at night, so it seemed an equitable arrangement. Eddie goes on to say "Dan had his own way of doing things and so I just did repairs the way he wanted them done."
According to Russell George, "Dan had positioned himself in an excellent spot. It was a little bit scary at times as I have been mugged a few times in that neighborhood, but the location was strategically excellent. There was so much session work going on at that time in the city and musicians who needed string changes or repairs would have to rush their instruments across the city. It was a disaster going in and out of cabs with guitar cases. Dan's shop was placed right in the middle of all this which greatly shortened the trip for everyone".